With the AutoPilot feature it's easier than ever to process each pay run. Your pays can be processed, payslips sent to employees and the payday filing details submitted to Inland Revenue without even logging into PayHero.
AutoPilot will automatically email you when it's time to run your pays, and can be used from your PC, tablet or even your smartphone.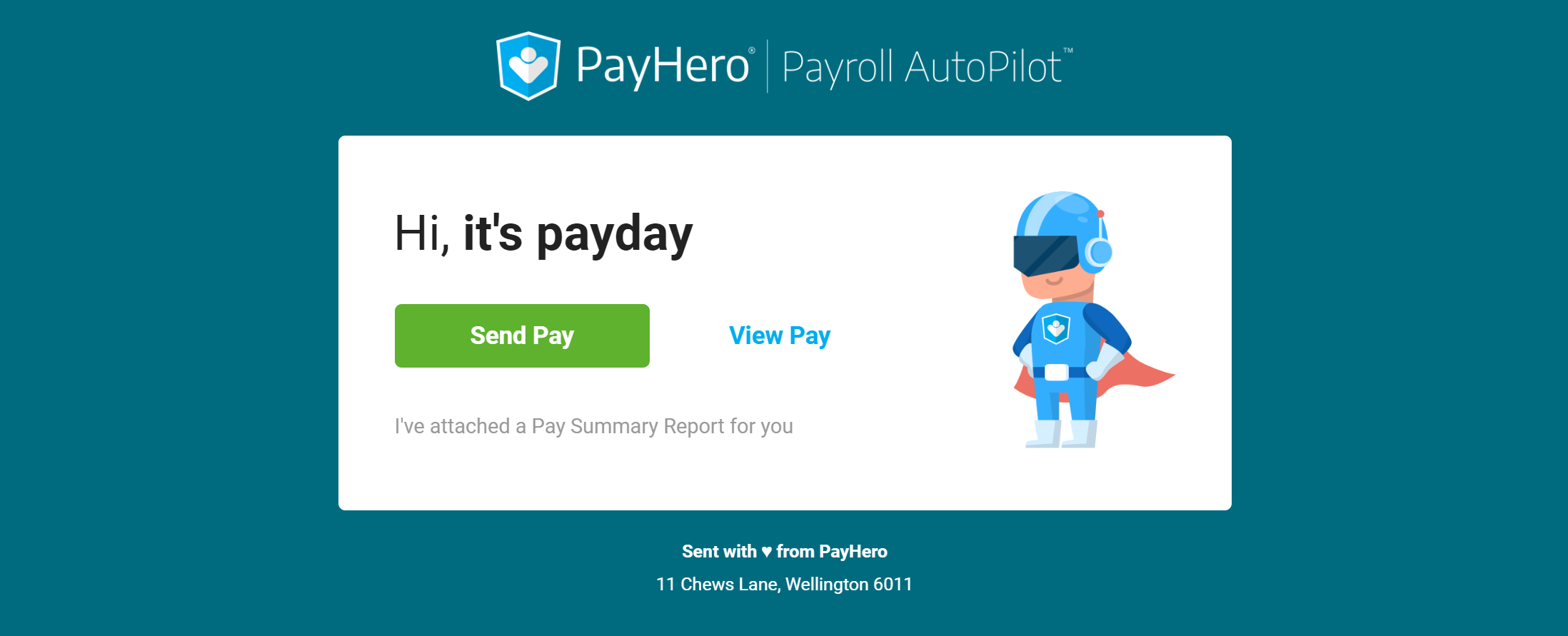 Activating AutoPilot
To turn on AutoPilot in PayHero first navigate to the Manage > Settings > Payroll Settings section. Select the option(s) for which AutoPilot you wish to activate.

AutoPilot Pays - A guided payroll process via email each pay day.
AutoPilot Tax Summary - A monthly email with a summary of the previous tax month.
Both AutoPilot options can be active at the same time, or if you'd prefer, only one can be made active.
Receiving Emails
AutoPilot guides you through each pay run via email. These emails will be sent to the Contact Email set under Manage > Settings > Company.

Ensure your chosen Contact Email is one you wish to receive Autopilot's emails. These emails contain detailed payroll information, including payment amounts for each employee in the pay cycle.
AutoPilot - Pays
If the AutoPilot Pays option is active a draft pay will automatically be created on the morning of pay day for you. There are three steps to this AutoPilot process which are as follows:
Creating the Draft Pay
Please note, if there are any actions required which prevent the draft pay from being created, your first AutoPilot email will alert you to this. Continue reading below for further details.
The Pay Date used by AutoPilot will be the one set on your Pay Cycle so it's important to have your pay cycle(s) set up as you require beforehand. You can view your next upcoming pay date from the Manage > Pay Cycles section of PayHero which is displayed under Next Pay Date.
After creating a draft pay, PayHero will send you an email at 9am on pay day. Attached to this email will be a PDF copy of the Pay Summary Report for you to review and ensure the pay AutoPilot has created looks as you'd expect.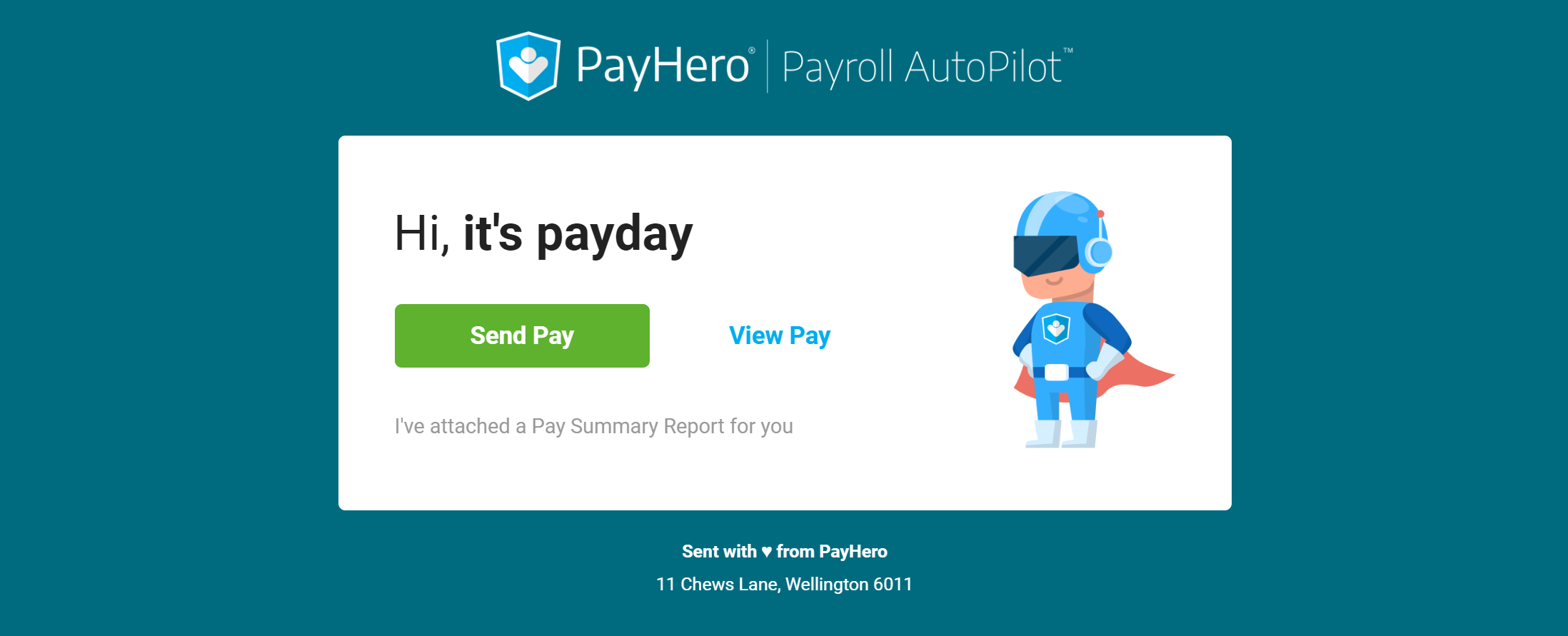 Sending the Pay
The draft pay email you received will contain the following two options to choose from:
View Pay - Clicking View Pay will prompt you to log in to PayHero and immediately load the Payroll > Draft screen. Use this option if any adjustments to the pay are required and you wish to take over. You can then continue to process the payroll as you would usually.
Send Pay - If you're happy that the pay is correct and ready to send the pay, clicking Send Pay will take you to an AutoPilot pay overview in your web browser.

Here you can see some general details for the pay cycle being sent such as the pay period and total payroll amount. Click Send Pay here to confirm sending the pay.
Upon sending, the same actions which would occur in your usual pay run will still apply. This can include:
Submitting the pay to IRD for Payday Filing
Emailing Payslips to staff
Sending Invoices to Xero
You will be taken to another screen confirming the pay has been sent and will then receive a follow-up confirmation email.
Paying your Staff
After sending the pay, PayHero will send you an email as confirmation. Attached to this email will be a PDF copy of the Bank Payment Summary with the payment amounts to use when paying your staff.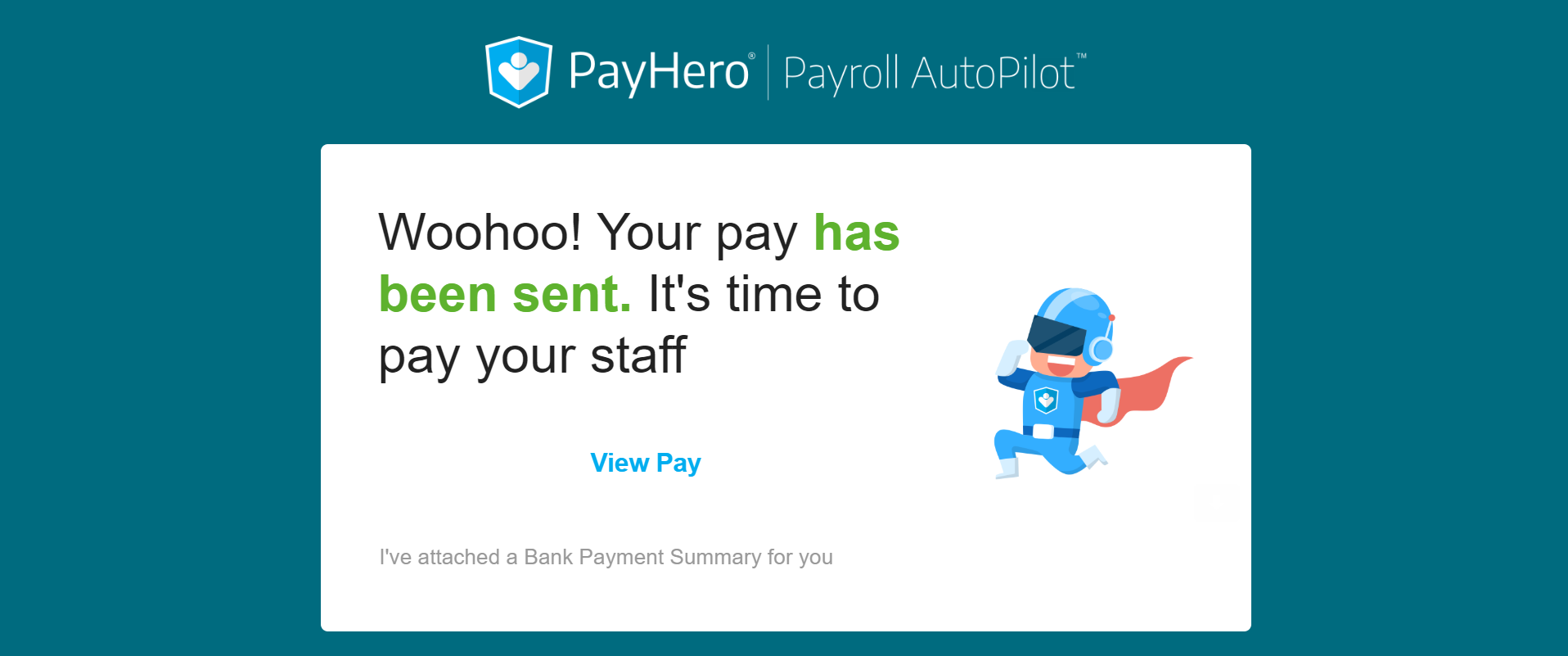 This email will also contain a button to View Pay. Clicking this will take you directly to the Payroll > Sent section of PayHero. If you use Bank Batch Files to pay your staff, you'll be able to download the Bank Batch File for the pay, and our support article: Making Payments with Bank Batch Files shows how.
AutoPilot Pays - Actions Required
The most common reason AutoPilot is unable to create the draft pay is an outstanding Leave or Expense request which falls within the pay period. If this occurs, you will receive an email from AutoPilot to let you know what actions are still required.

Clicking on an outstanding action from the list of Things to Do will take you directly to the relevant section of PayHero. You will need to approve or decline any outstanding requests as shown in the following support articles:
Every hour, AutoPilot will attempt to create the draft pay again. If there are still any outstanding requests, AutoPilot will try again an hour later. If you've actioned the required changes and PayHero successfully creates a draft pay, you will receive an email letting you know the draft pay has been made. You're now ready to send the pay and can follow the process outlined under the AutoPilot - Pays section above.
If after 24 hours there are still any pending requests, the AutoPilot process will end. You will then need to send your pay manually. Selecting the Review Pay button will bring you to the Payroll > Review section of PayHero for you to take over.

AutoPilot - Tax Summary
If the AutoPilot Tax Summary option is active in your PayHero company, you will receive an email from PayHero at the beginning of each month.

Attached to this email will be a PDF copy of the Tax Summary Report for the tax month prior. For more information on the details included in this report, please see our support article: Tax Summary Report.
Note that if you're paying your employees with Bank Batch Files and have Include Tax in Bank Batch ticked in your Payroll Settings, you'll already be paying your tax totals to IRD each pay day.