The standard approach to KiwiSaver has employers' contributions paid in addition to the employee's gross salary or wages. This means that if two employees are paid the same amount and only one is a member of KiwiSaver, the KiwiSaver member is essentially paid 3% more.
A Total Remuneration approach allows an employer to set a fixed remuneration amount for an employee. If the employee is in KiwiSaver, the cost of the employer's contribution comes out of the employee's pay via salary sacrifice. This results in the two employees described above receiving the same total amounts.
To put an employee on a Salary Sacrifice/Total Remuneration first go to Manage > Employees and select the relevant employee's name. From the employee's Default Pay tab, under earnings, include the Salary Sacrifice Pay Item and click save.
The pay item will always deduct 3% of earnings for the 3% employer KiwiSaver contribution rate.

The KiwiSaver Employer Contribution line is retained in any pays, as the employer is still obliged to contribute to KiwiSaver. However, the Salary Sacrifice will be deducted to balance this out. When processing a pay for the employee ensure that the Salary Sacrifice and Employer Contribution pay items have the same total.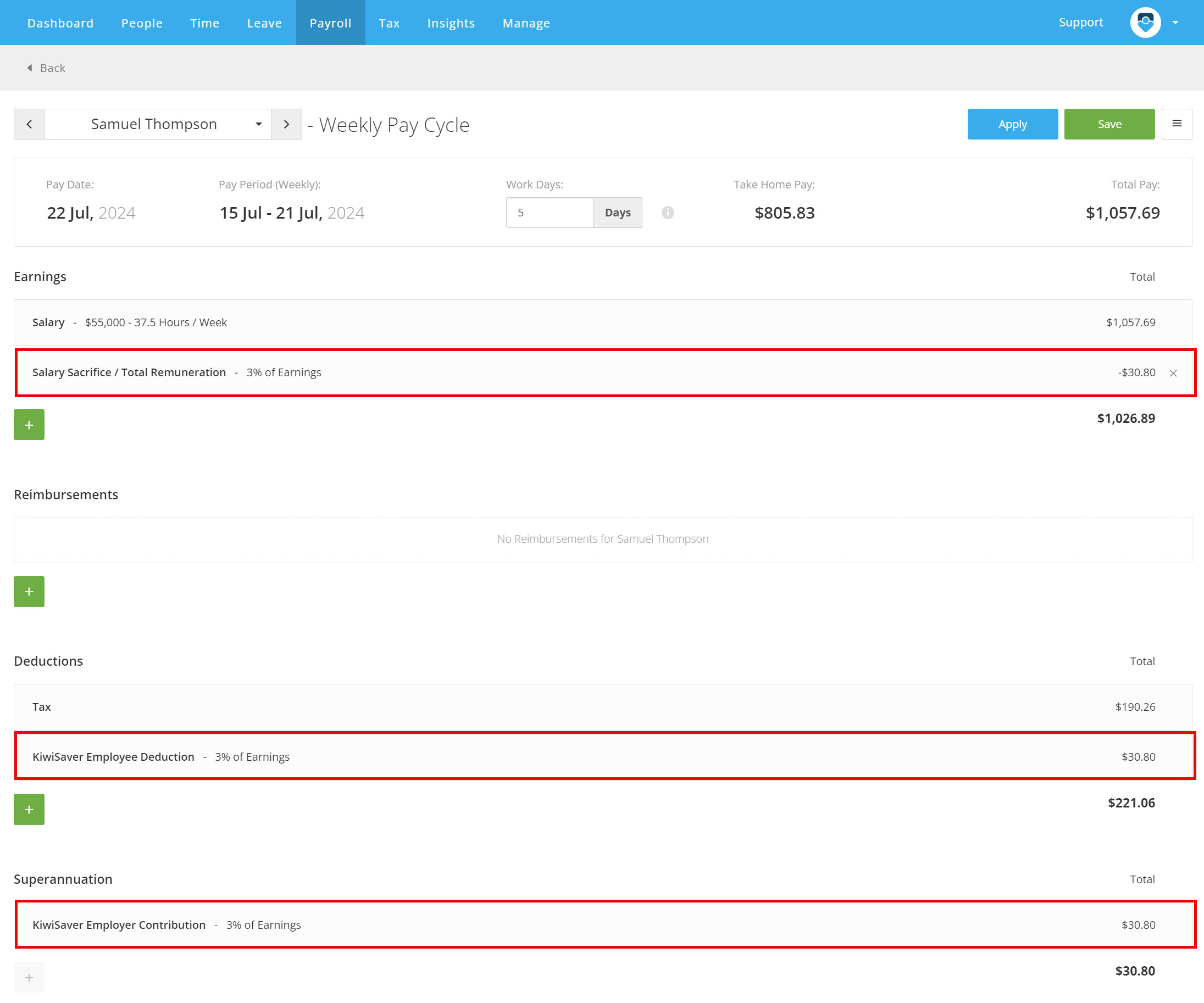 Important to Note
To ensure an employee is not disadvantaged whether they're in KiwiSaver or not, Holiday Pay will be calculated on the full total remuneration package. For an employee in KiwiSaver this essentially means that holiday pay is paid on the employer KiwiSaver contribution. This is not the case using the default KiwiSaver approach.
If the employee is on a KiwiSaver Savings Suspension, you'll need to remove the Salary Sacrifice pay item from their Default Pay tab.
If the employee is being paid at the minimum wage, Salary Sacrifice should not be used. This should only ever be used if the employee will still be paid at least the minimum wage, after the 'Salary Sacrifice' deduction is applied.