PayHero makes managing public holidays easier than ever, with automated calculations for your employees' public holiday entitlements. It's important to confirm your account is set up to process these pays correctly, and understand that as an employer, you need to ensure your employees' entitlements are managed correctly.
When determining entitlements for public holidays, it's important to understand Otherwise Working Days. A day is considered an Otherwise Working Day (OWD) for an employee, if it's a day they would normally work.
Once an OWD is determined, the diagram below shows what an employee should be paid for a public holiday if they work, do not work, or if they should receive an alternative leave day.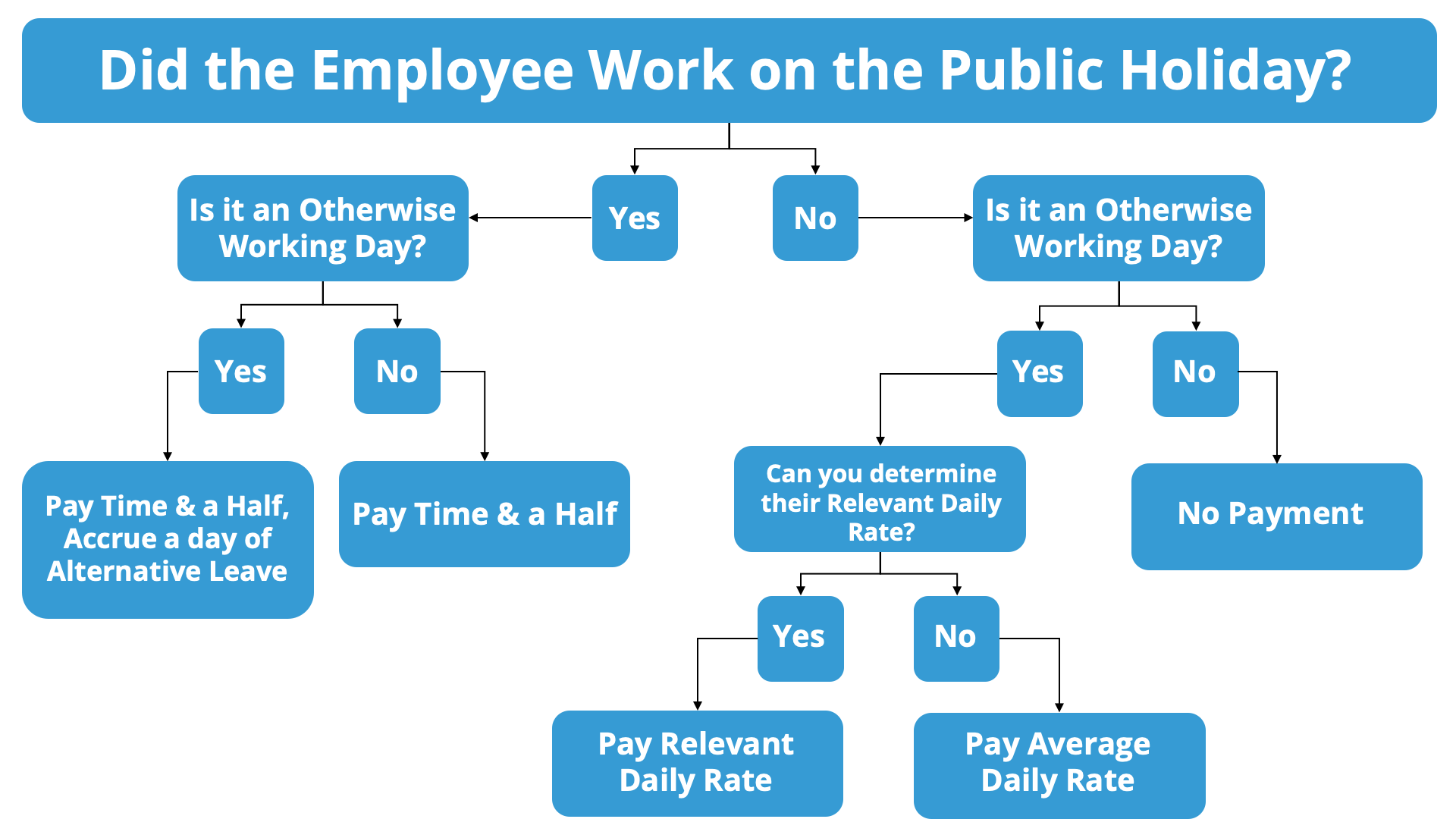 Automated Public Holidays
PayHero will automatically process public holidays if you have the Automate Public Holidays checkbox selected in your Company Settings.

PayHero will use employee work patterns and timesheet history to determine their public holiday entitlements as closely as it can, depending on whether the employee worked or not.
Working on Public Holidays
PayHero will check whether or not each employee worked that day (based on if they have recorded timesheet entries) and will pay them accordingly. Provided the Work used for recording time against has an appropriately set public holiday pay item, the employee will be paid Time and a Half, and PayHero will automatically accrue an alternative leave day if the day is determined to be an OWD.
Not Working on Public Holidays
If the employee didn't work on the public holiday, they will then be paid using their Relevant or Average Daily Rate (provided the public holiday is considered an OWD, as outlined in our support article on Otherwise Working Days).
For further details on how PayHero determines the Relevant and Average Daily Rates used for public holiday payments, see our support article on Other Leave Rates.
You can check the automatic calculations applied by PayHero using the Public Holiday Audit Report when you create the draft pay.
Manually Specifying Public Holiday Entitlements
If you need to manually specify an employee's entitlements you can do so directly from a draft pay by adding in the relevant pay item under earnings (e.g. Public Holidays or Time and a Half and an Alternative Leave day).
Public Holidays and Time and a Half are added via the Earnings section of the pay.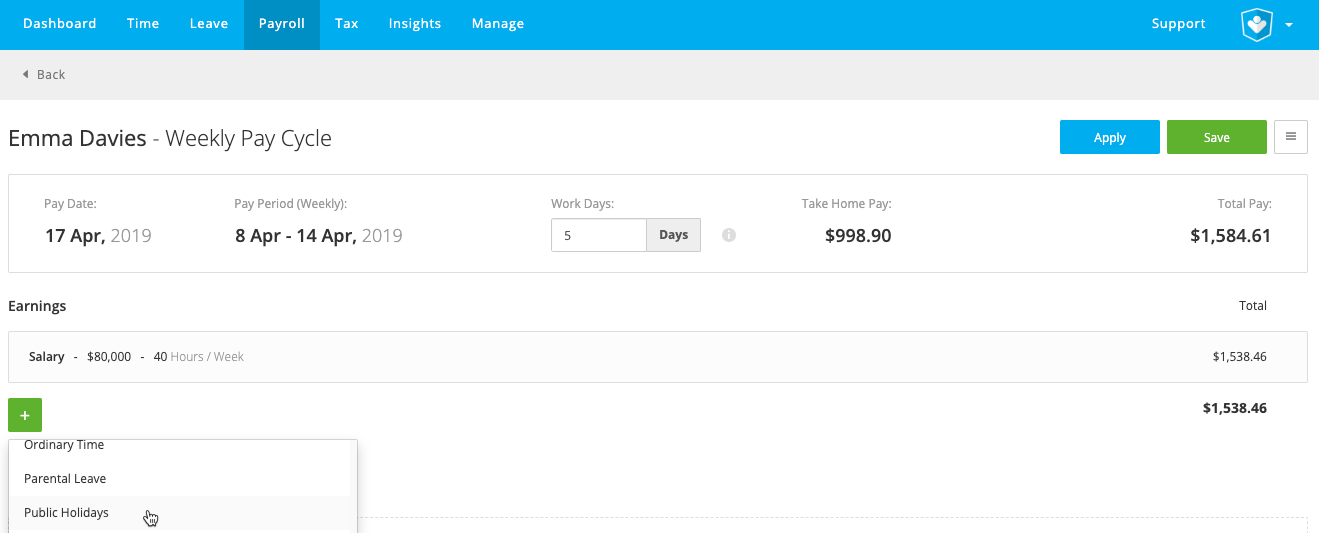 Alternative Leave can be added to the Leave Accrued section at the bottom of the pay. This section will only appear in pays where leave is accruing for the employee (e.g. at their annual or sick leave anniversaries), or if the pay covers a Public Holiday.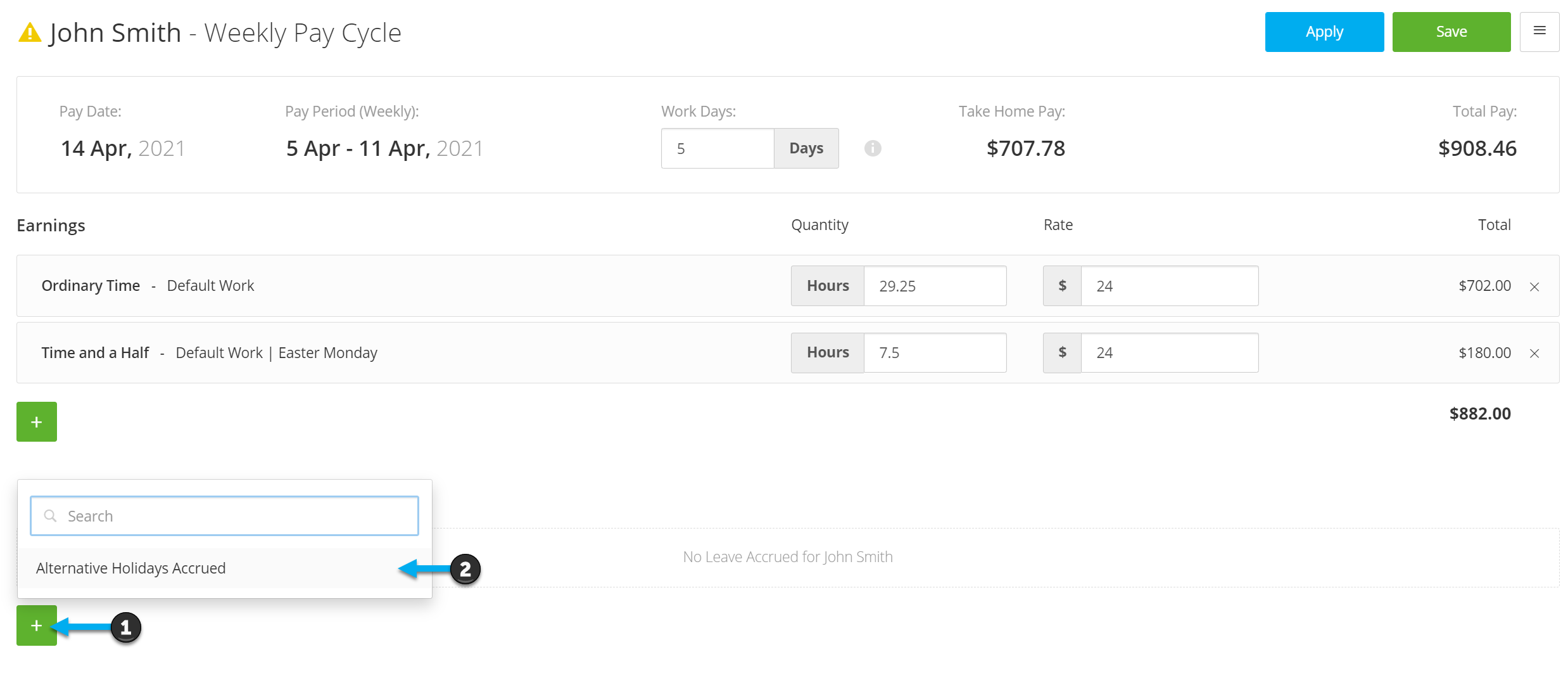 Paying Time and a Half
Employees who record time on a public holiday in PayHero will be paid based on the 'Public Holiday Pay Item' applied to the Work the time is recorded against.

Ensure you have this set to Time and a Half for any work you've created, so that employees are paid appropriately if they work on a public holiday.
If you need to pay your employees time and a half for a rate other than their normal pay rate, you'll need to set up a custom Other Earnings Pay Item. For example, this pay item would pay 1.5x the employee's Third Rate:

Mondayised Public Holidays
PayHero handles Mondayisation (and Tuesdayisation!) of public holidays without issue.
You can learn more about the mysteries of Mondayisation here: Mondayised Public Holidays
Handling Leave Requests
If you have employees taking leave over or around public holidays you can find more details on how to process these in our support article on Leave Requests. If they have a leave request which covers the public holiday they won't be double paid - the public holiday will be processed first, then other days in the request will be processed as the requested leave type.