After an employee's finish date has passed, their name will no longer be included under the Manage > Employees tab. To view a finished employee, select the

button from the top right and click Show Finished Employees. All finished employees will display an exit icon next to their name.

If the employee is returning to work, starting new employment with you, or was finished in error you'll need to reinstate or restart the employee.
Reinstating a Finished Employee
If an employee was finished in error or is returning on the same contract, you may need to reinstate them. Reinstating an employee simply clears their finish date, leaving all other details in place including any outstanding leave balances.
To reinstate an employee that has been finished, click into the relevant employee and go to their Employment tab. Click the X in the Finish Date field and then click Apply or Save to reinstate their employment.

Restarting a Finished Employee
If an employee is starting a new contract with you then they'll need to be restarted. This will apply a new employment start date and clear out any historical leave balances. It's important to ensure a Final Pay was processed for the employee's previous employment before restarting them.
To restart a finished employee, click into the relevant employee and go to their Employment tab. Next to the Start Date field there will now be a button for New Employment.

Selecting New Employment will display a pop up where you can choose their new Start Date and whether they will be employed as an employee or a contractor.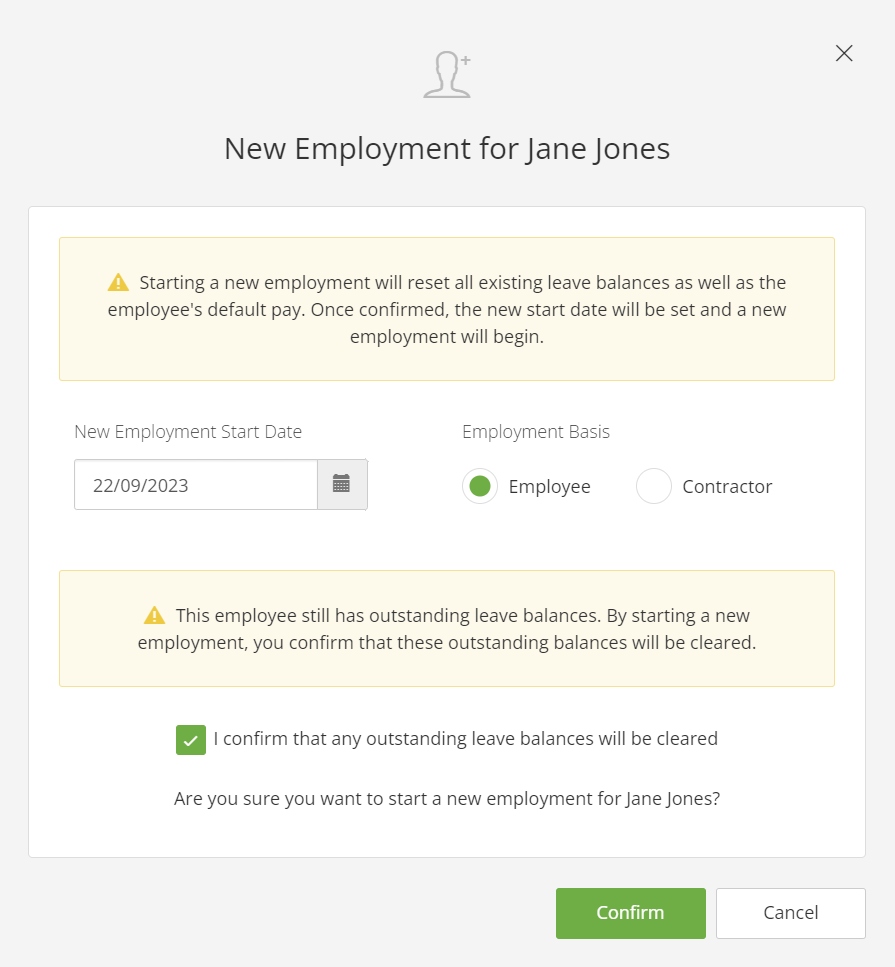 Click Confirm to restart the employee.