Beta Feature - This feature is currently in beta. Please see our Subscription Agreement for more info on beta services. This feature will be available to trial from 27/05/2022. After the end of the beta period, the Akahu integration will only be available to users on our Super or Universe plans.
Pay Now via Akahu is one of the ways you can pay your employees with PayHero. Learn more about Pay Now via Akahu below, or for more information on the options available, see our article: How do I pay my employees?
PayHero integrates with Akahu, an online open finance system for quick and easy payment processing.
By integrating PayHero with Akahu, you'll be able to pay your employees directly from your bank account to theirs, without leaving PayHero.
For more information about Akahu, see the Akahu website.
Setting Up Two Factor Authentication
To use the Akahu integration, Two Factor Authentication (2FA) must be enabled for the administrator who will be integrating.
See the 'Activating Two Factor Authentication - Individual' section of this support article for details on how to set up 2FA for yourself: Two Factor Authentication.
Alternatively, you can turn on 2FA requirements for your company as a whole. If you do so, make sure you log out and back in again to complete your own 2FA set up, before proceeding with the next steps.
Important: Any administrators who process pays will require the 2FA code of the user who sets up the Akahu integration, so ensure this person will be available on pay days.
Integrating with Akahu
Head to the Manage > Integrations tab to connect your PayHero account to Akahu.

Click Connect and you will be prompted to allow access to your Akahu account. Select Continue to proceed.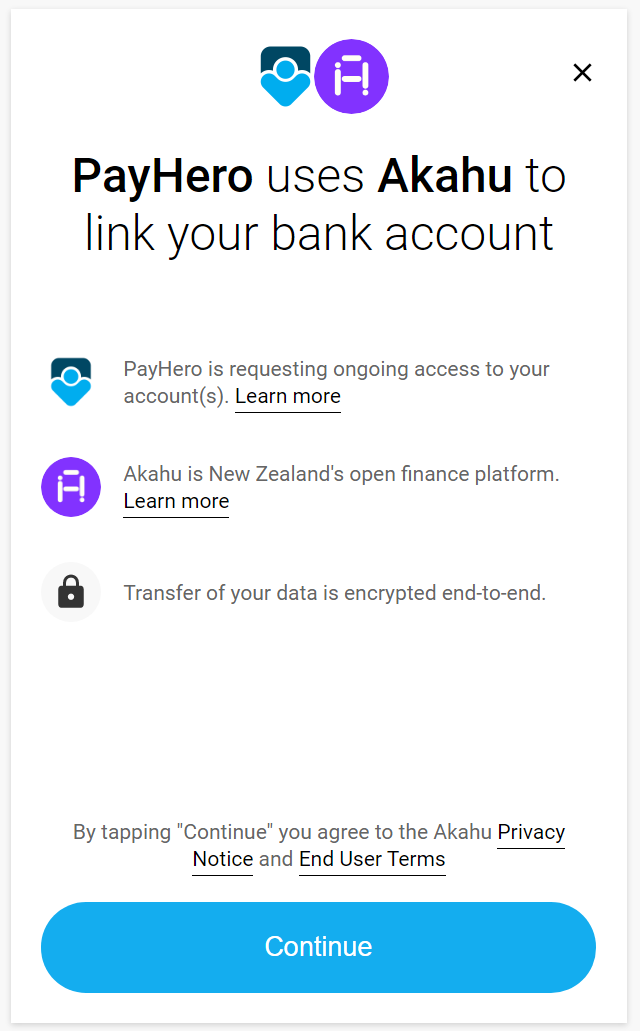 You'll be prompted to enter your email address. If you've already registered with Akahu before, you can use the same email address to speed up the process.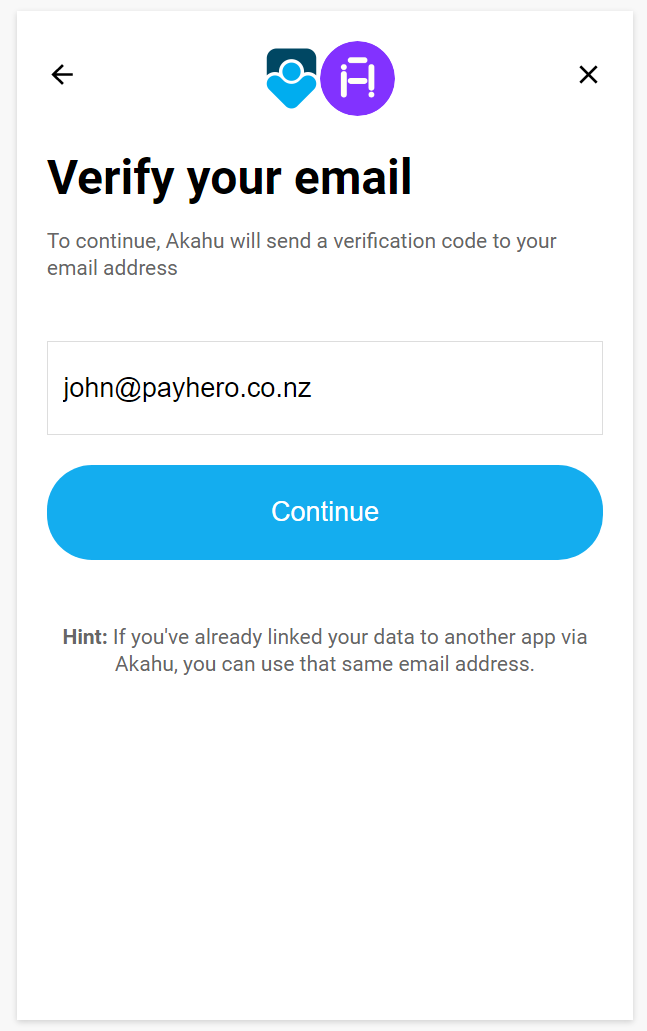 Akahu will send a confirmation code to the email address provided. Enter the code in the next step.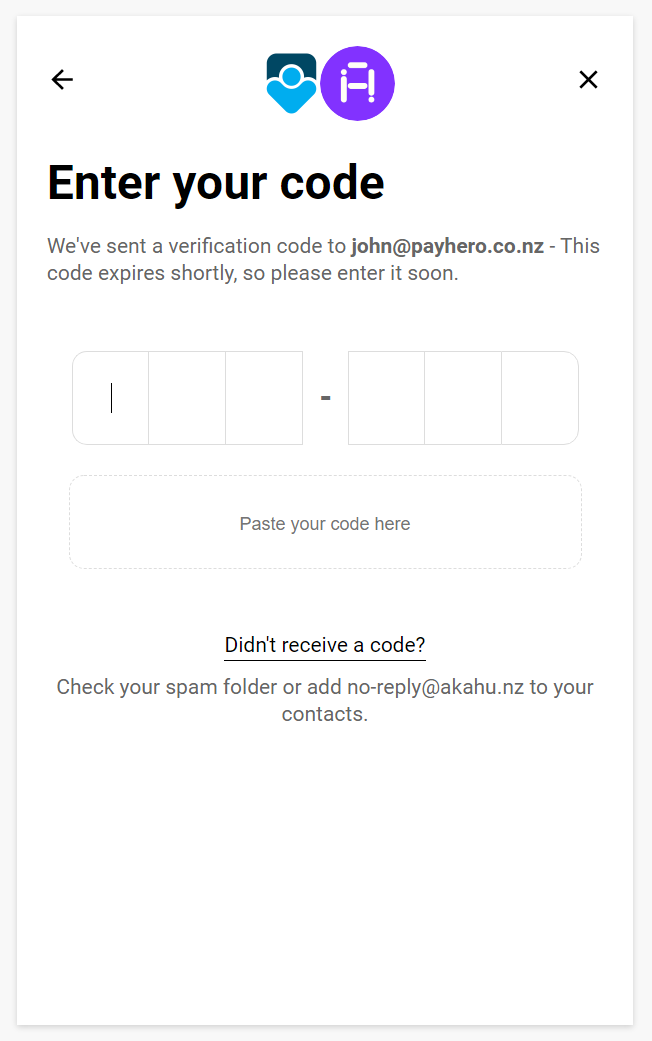 If you haven't already registered for an Akahu account, you'll need to follow the prompts from Akahu to select your bank and enter your login details.
Once your bank accounts have been set up with Akahu, you'll be able to select which accounts you'd like the PayHero integration to have access to: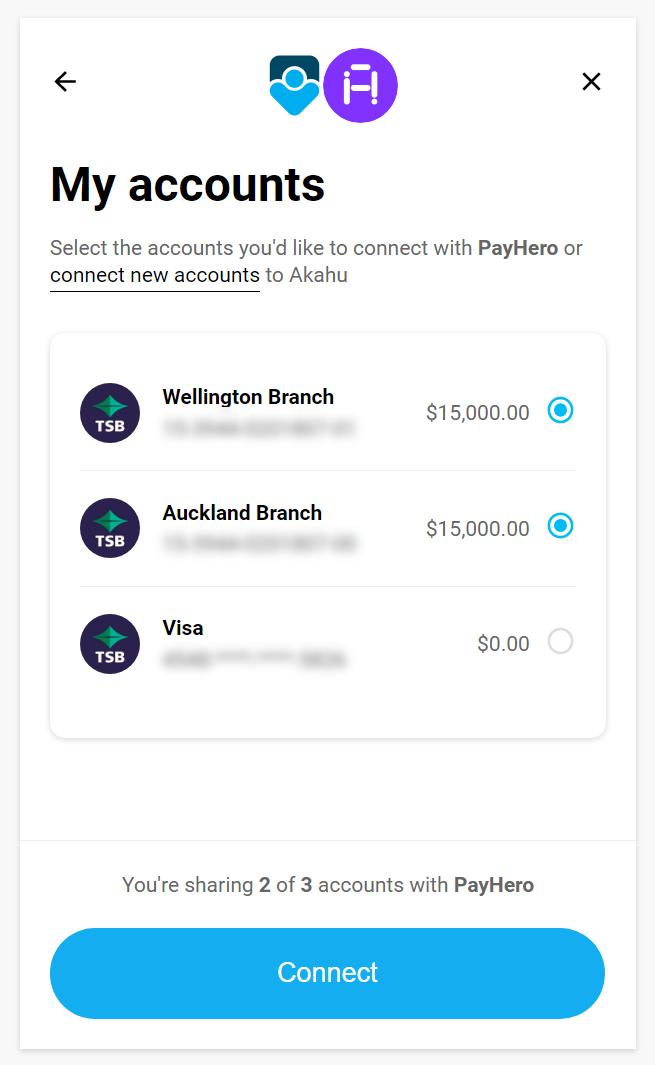 Once the connection is complete, you will see this connection success confirmation:

The Manage > Integrations tab will also show that your account is connected, and give you the option to Go to Akahu to manage your accounts:

Under Payroll Settings, your payment method will also be set to 'Pay Now with Akahu':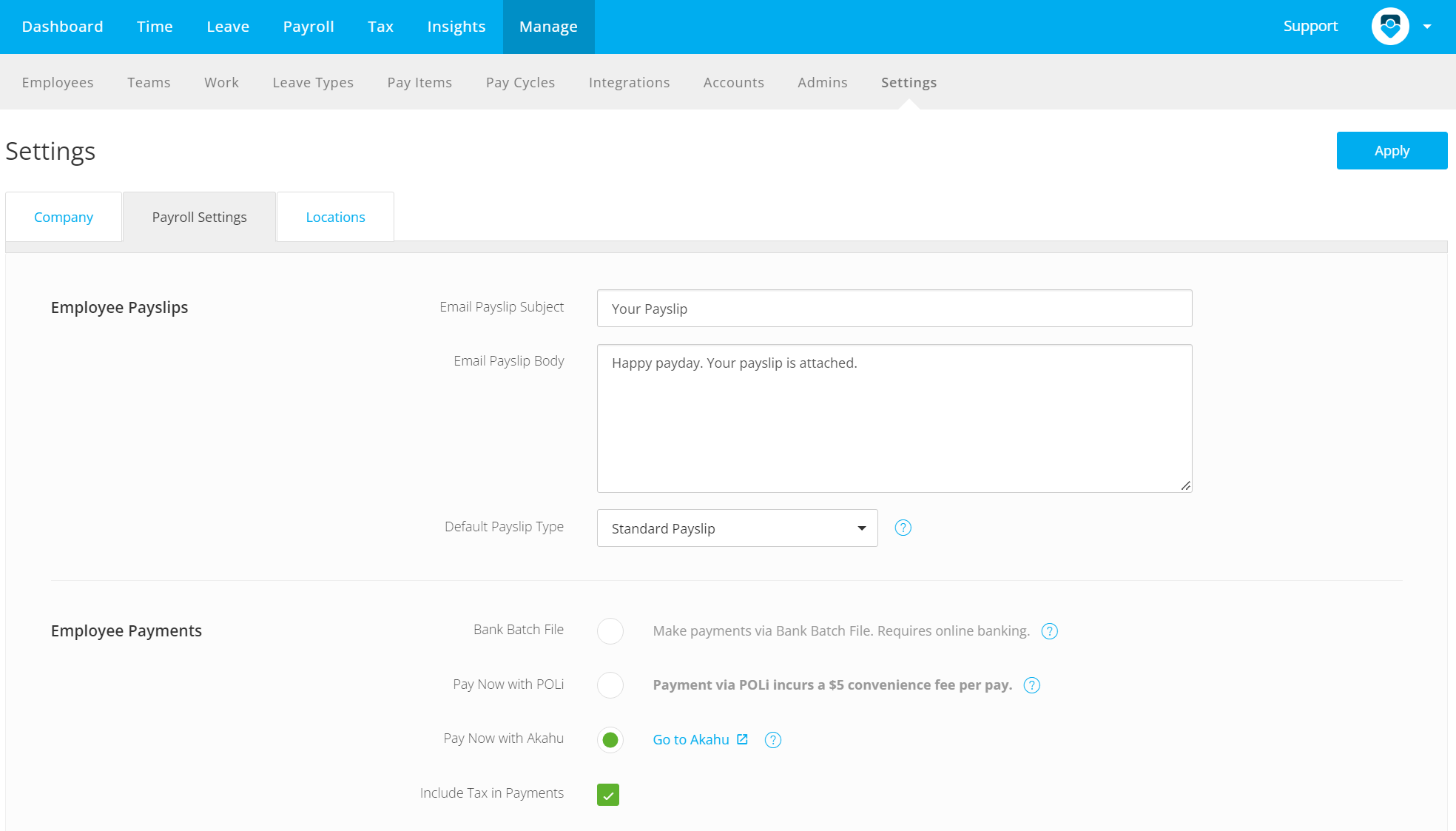 Paying Employees with Akahu
Once the integration is set up, you're ready to begin paying your employees with Akahu.
Please note there is a $50,000 transaction limit for pays processed via Akahu.
Learn how here: Making Payments: Pay Now with Akahu
FAQ & Troubleshooting
Will PayHero have login access to my bank account?
In short, no. Akahu is an online payment option you can use to make payment for your pay run directly from your bank account, all while still being logged into PayHero. When you approve a pay run, we'll automatically send your payment instruction to Akahu, who will process it with your bank.
When you pay with Akahu, the transaction is completed in a pop-up window, within the security of Akahu's services. At no time are your personal banking login details disclosed to FlexiTime Ltd (PayHero). For further information, please read the Safety details and Privacy Policy from Akahu.
I didn't receive my verification email
Learn how to troubleshoot this with Akahu here: Akahu Troubleshooting
Help! What does this error mean?
In some cases, you might encounter an error or warning while trying to connect or use the Akahu integration.
For any PayHero errors referring to Two Factor Authentication, see the 'Setting Up Two Factor Authentication' section at the top of this article for how to set your user up with 2FA. This applies to the user who has connected with Akahu.
For any errors that occur during the integration process, or during the payment process, these are likely Akahu errors. You can troubleshoot these here: Akahu Troubleshooting
For any errors that appear on your pay after it's been sent, see the 'Pay Now Payment Status' section of this article: Making Payments: Pay Now with Akahu
Does the Akahu integration support my bank?
Akahu provides connections for most major New Zealand banks.
You can learn more about which banks are supported, and how the connection with each bank works, here: Akahu Troubleshooting
Although Rabobank is one of Akahu's supported banks, their integration is managed differently and is therefore not compatible with the PayHero integration at this stage.
Is there a transaction limit for Pay Now with Akahu?
Yes, Akahu applies a transaction limit of $50,000 for a single payroll transaction. Additionally, any standard limits imposed by your bank for your specific account may apply.
Can I pay different employees with different bank accounts?
Yes! Akahu allows you to set up connections to multiple bank accounts, even if they aren't with the same bank. When connecting the integration, simply make sure you've set up all accounts you need access to in Akahu, then choose which account (or accounts) should be available in PayHero: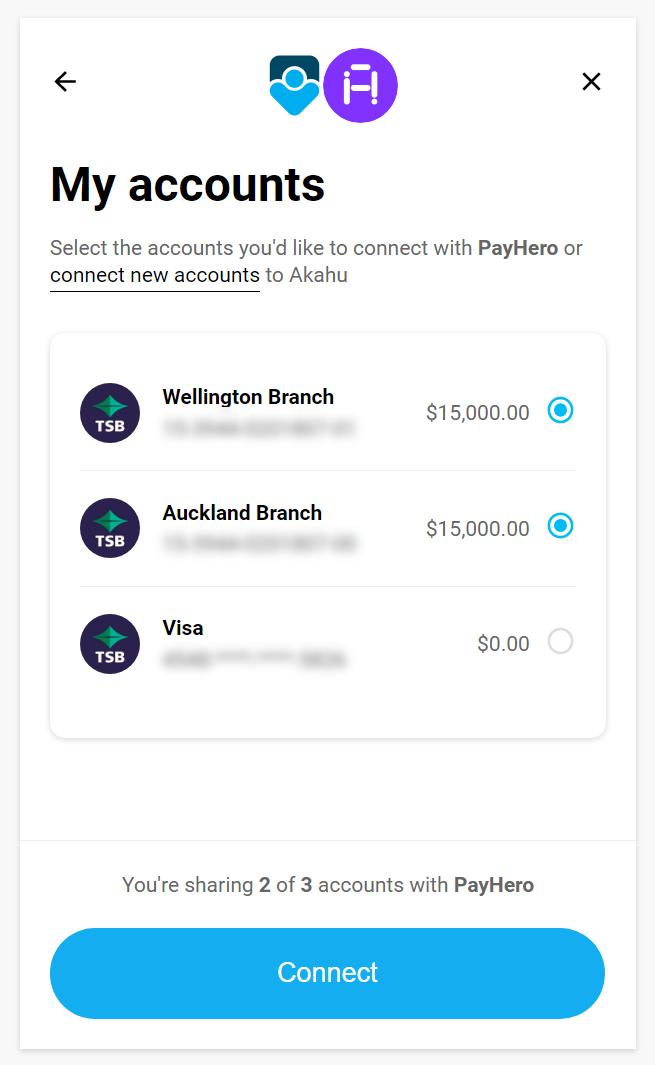 Make sure you have separate Pay Cycles set up for each group of employees that should be paid out of a different bank account. When sending each pay, you'll be able to choose which bank account the payments should be processed from.
Can I disable Pay Now with Akahu?
Yes, you can select a different payment method at any time from the Payroll Settings tab. You can learn more about the available payment methods here: How do I pay my employees?
If desired, you can also disconnect the integration under Manage > Integrations.