Dataphyll is a horticultural software provider delivering tools for orchardists to manage their staff and activities, in the field, in real-time.
Their Dataphyll GROW product helps incentivise workers by paying them based on their performance, while capturing accurate quantity and quality information and allowing users to easily meet their Good Agricultural Practice (GAP) requirements.
Dataphyll's integration with PayHero allows you to send full timesheet data for both hours worked (start, end and break times) and picking rates into PayHero, for us to take care of all your wage and leave calculations, payslips, accommodation allowances and payday filing.
You can learn more about Dataphyll at www.dataphyll.com.
Integrating with Dataphyll
The integration is largely managed within Dataphyll, but you'll need to connect in PayHero and collect your API Key in order to set things up on the Dataphyll side.
First, navigate to Manage > Integrations, and click Connect on the Dataphyll integration banner.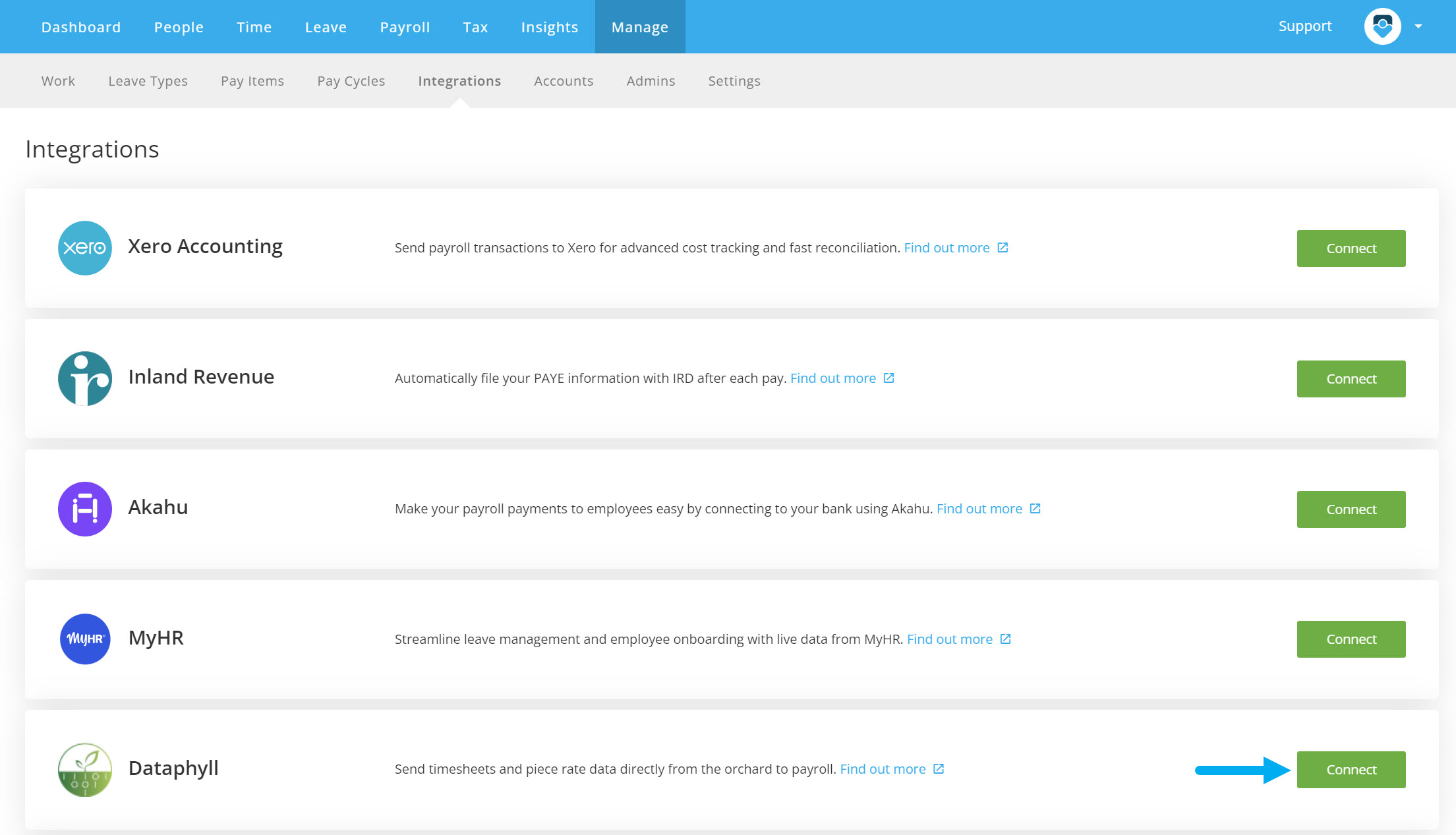 Your API Key will appear, and you can click the clipboard icon to copy the key.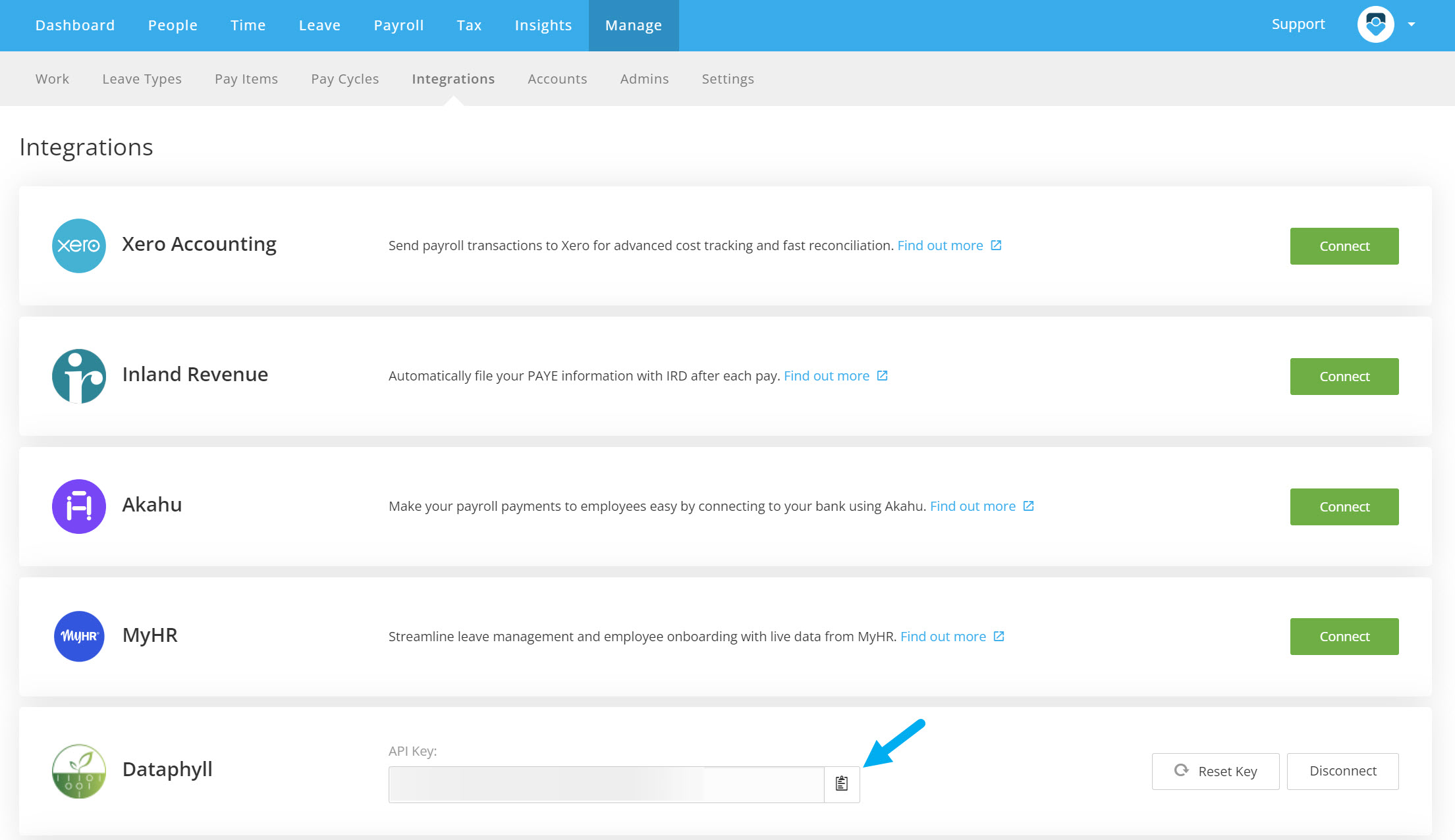 Once you have your API Key handy, you can log into Dataphyll CONTROL and navigate to Admin > Connected Apps.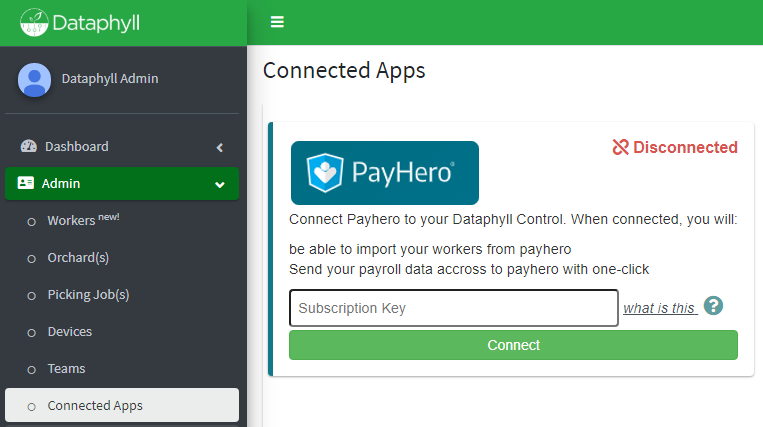 Paste the PayHero API key into the subscription key field and click Connect. A banner will confirm your account is successfully connected to PayHero.

Once connected, you'll have the option Sync Hourly Rates. This is on by default, or you can switch it off to allow rates to remain specified in Dataphyll.
Creating Employees in Dataphyll from PayHero
It's recommended to create your employees in PayHero first, then sync them through to Dataphyll.
To ensure employees can be synced from PayHero to Dataphyll, you'll first need to add a 'dataphyll' label to their employee record. The first time you add one of these labels, simply type 'dataphyll' and click the green plus as seen here:

For each employee after that, the label will be available in the dropdown to add with a single click:

Employees with the 'dataphyll' label will be automatically loaded into Dataphyll each night, or you can click the 'Pull from PayHero' button on the Workers screen in Dataphyll to bring new workers through immediately.

If any workers in Dataphyll aren't already connected to PayHero and their First & Last Name matches a new employee in PayHero, they'll be connected instead of creating a new worker in Dataphyll.
Once connected, you're ready to begin sending timesheets to PayHero!
You can contact Dataphyll at support@dataphyll.com for any questions or further instructions on using the Dataphyll & PayHero integration.