To finish an employee and pay out their entitlements, there are a few steps to take, shown below. Alternatively, if you're ready to process a final pay for the employee you can simply finish their employment from within the pay as shown here: Final Pay.
Setting a Finish Date
Go to Manage > Employees and select the employee leaving the company. View their Employment tab and select the Finish Employment button.

The following pop-up will be displayed. To change the finish date, click on the calendar icon and select the date their employment ends, or type it directly into the text field. After you've read the warning and entered the necessary Finish Date, click the Finish Employment button.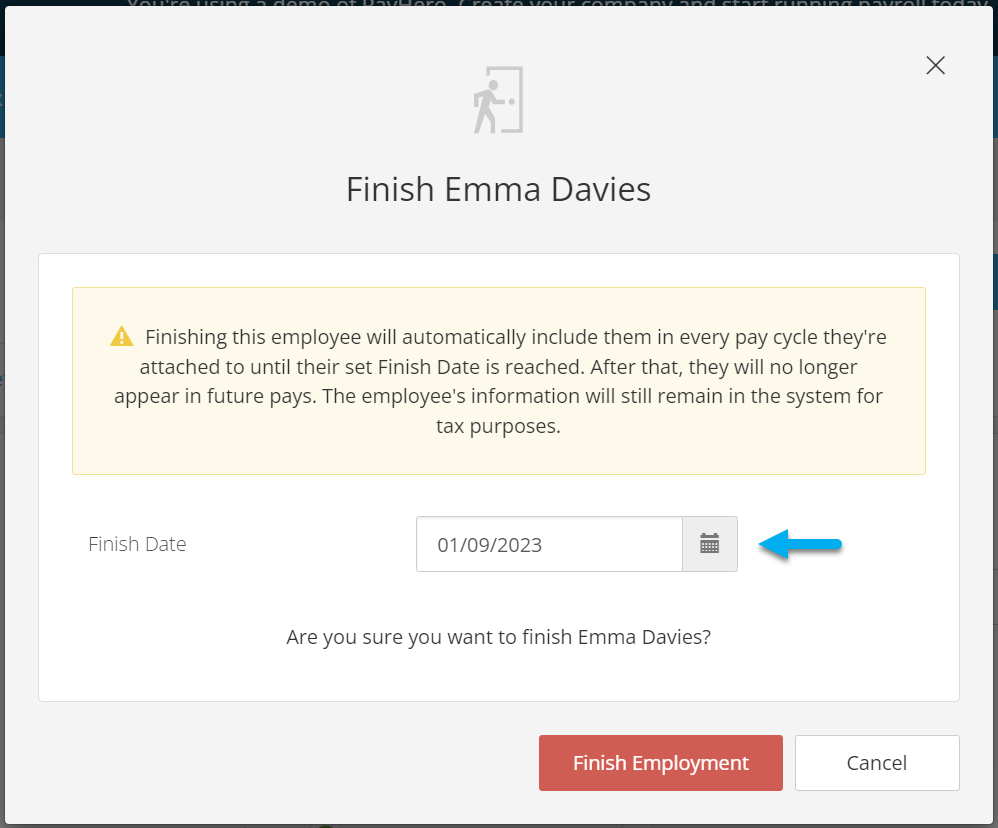 The employee will now have a set Finish Date and an exit door icon alongside their name to reflect the updated employment status.
Final Pays
A finished employee will continue to be paid normally after the finish date is set, until their last pay is reached. When the pay which covers the employee's Finish Date is created, a Final Pay tag will appear next to their name.

Selecting the Final Pay employee from the draft pay will show their payslip along with all relevant leave being paid out. More information on what's included in a Final Pay can be found here: Final Pay

Reinstating a Finished Employee
If an employee was finished in error, or is returning to work for you again, you can reinstate or restart their existing employee record. A guide on how to do so is available in our support article: Reinstating or Restarting an Employee.