The Work Pattern settings in your company Payroll Settings are used for leave calculations throughout PayHero. Where applicable, these will be used to determine the employee's current Annual Leave balances, what portion of a week to deduct when they take leave and what days they usually work, so it's important to get this setting right.
These will only be used for employees who don't have a detailed Work Pattern set on their employment record. You can find more information on how to set the appropriate Work Patterns for each employee here: Employee Work Patterns
Setting a Work Pattern
The default Work Pattern will be set to a Review Period of 8 weeks and an Otherwise Working Day Minimum of 5 weeks. Before making any changes to the Work Pattern it's important to understand the impact these settings will have on your employees' leave entitlements.

The settings in the work pattern are as follows:
Review Period - How many weeks of recent pay and timesheet history PayHero should review when determining an employee's ordinary week. See our following article for more information on exactly how this will affect employee leave balances: Annual Leave & Holiday Pay in PayHero
We've chosen 8 weeks as the default Review Period. If you wish to select a different review period, keep in mind that longer review periods may not accurately represent the employee's recent work pattern, while shorter review periods can result in more fluctuation in balances.
When using this approach, MBIE notes:
If it is genuinely not possible to identify a work pattern, then one approach is to base the
calculation on an average number of hours determined from some appropriate period. As with
all other situations in which it is not immediately apparent how the calculation should be
performed, this must be agreed between the employer and employee. Averaging over a
shorter (recent) period (eg four weeks) is likely to be a good reflection of current work patterns
– and should therefore be preferred – but is susceptible to one-off 'peaks or troughs'.
Averaging over a longer period (eg 52 weeks) would smooth out peaks and troughs, but may
not be a good reflection of current work patterns (ie it would not take into account any
significant changes in working arrangements during the year).
Otherwise Working Day Minimum - The number of times an employee would need to have worked on that day of the week for the day to be considered an Otherwise Working Day. An otherwise working day is a day the employee likely would have worked had they not been on leave that day.
For example, using our default Otherwise Working Day Minimum of 5 and Review Period of 8, an employee would need to have worked 5 of the prior 8 Mondays in order for Monday to be considered an OWD.
To learn more, see our Otherwise Working Days support article.
Annual Leave Balances
When using the Review Period to calculate employee leave balances, PayHero calculates the average days per week worked during the Review Period.
You can see how an employee's balances are being converted by clicking the blue info icon on their Leave tab - for example, Karen has No Regular Week set, so her balances are converted from weeks to days and hours accordingly based on her Review Period 8 week averages: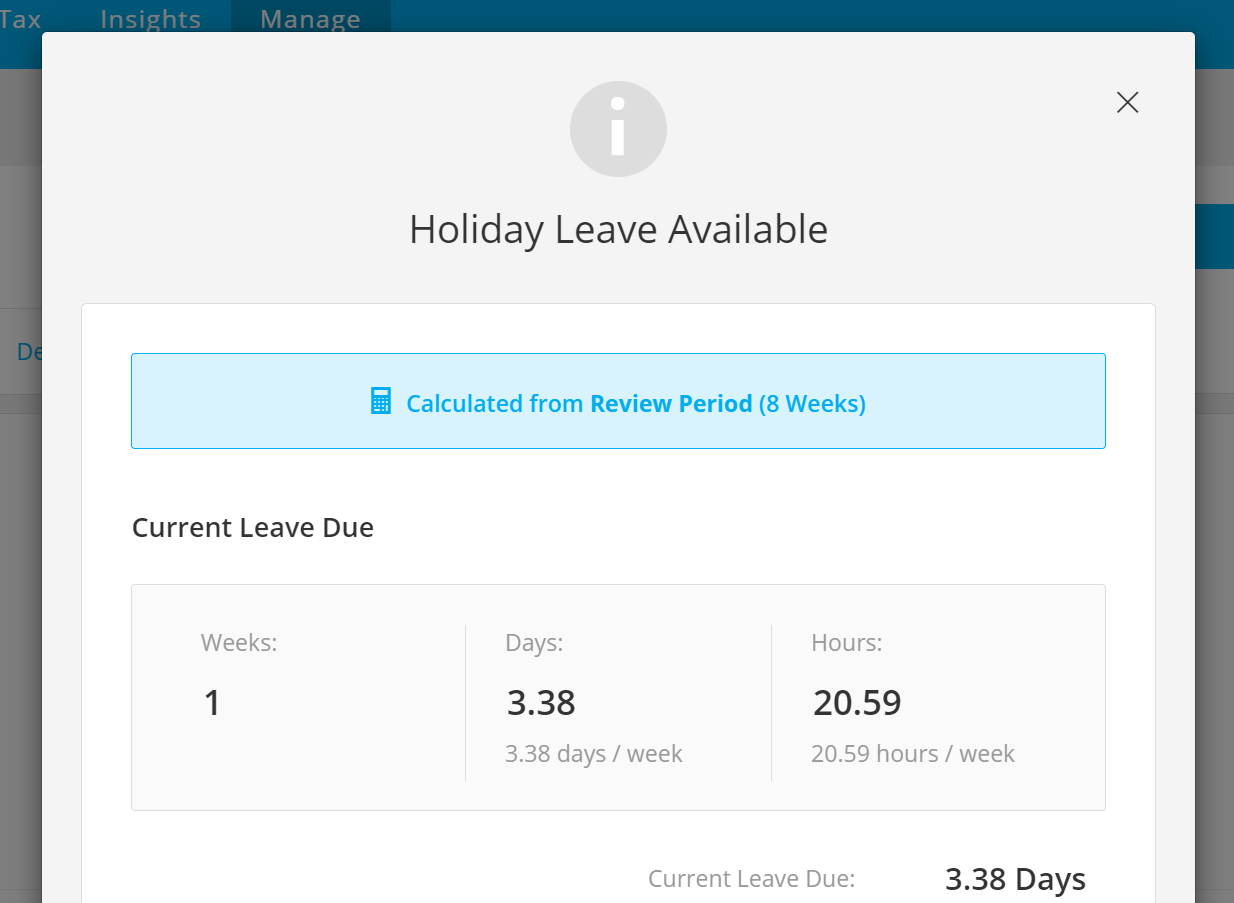 Deducting Leave
Once leave is included in a pay run, PayHero will also determine what portion of a week to deduct from their balance based on their Review Period averages. You can learn more about paying leave here: Processing Leave
Employees like Karen will have their leave deducted based on their average days per week. As Karen has worked an average of 3.38 days per week in the last 8 weeks, when she takes two days of leave 2/3.38ths (or 0.59) of a week will be deducted from her leave balance. You can view these calculations by clicking the blue info icon on the leave pay line in their pay: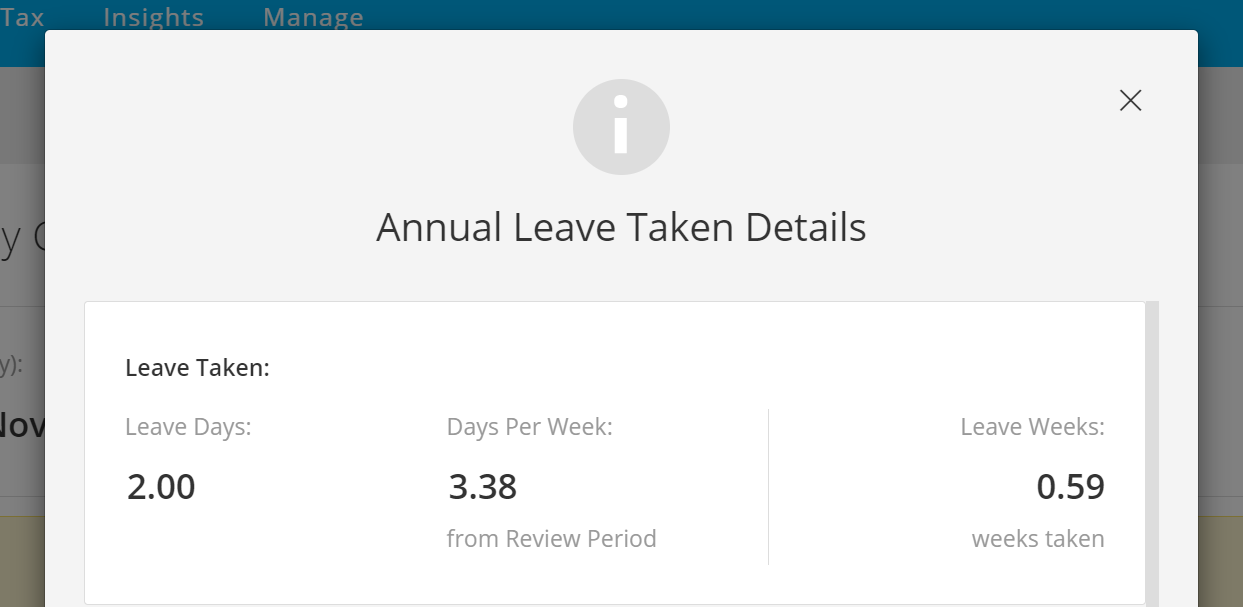 It's important your employees understand how their leave will be processed. You may find our article Annual Leave & Holiday Pay in PayHero helpful for defining leave calculations in your employment agreements.