For information on processing leave in a pay, see our article Processing Leave, or for other information on leave, see our articles here: Leave
What are Annual Leave and Holiday Pay?
Annual Leave is the yearly entitlement employees receive, allowing them to take time off for rest and recreation. This is usually 4 weeks of leave. Annual Leave only becomes due to employees at the completion of each year of employment, on their anniversary.
While it's common to think about Annual Leave in hours or days, as those units are often more meaningful to employees, it's important to ensure balances are calculated back to weeks to ensure compliance with the Holidays Act.
Holiday Pay is a $ figure, calculated as 8% of an employee's gross earnings since their last anniversary (or since their start date, if they're still in the first year of employment). Holiday Pay accrues during the year, and then 'resets' each year when they cross their anniversary. Unlike Annual Leave, Holiday Pay isn't a balance that employees can use for taking leave - it exists mainly to ensure employees are reimbursed properly if they leave part way through the year, to account for the fact that their Annual Leave hasn't yet become due.
Holiday Pay is usually only paid to employees if they:
Each of the sections below go into more detail about how Annual Leave and Holiday Pay behave throughout an employee's employment period.
Initial Twelve Months
During the first 12 months of employment, employees have no annual leave due. Most employers still allow employees to take annual leave during this period, but any leave would be taken in advance.
As the initial 12 months of employment progress, they accrue Holiday Pay, which is usually 8% of the employee's gross earnings.
Employment Anniversary
Once the employee crosses their first employment anniversary, they become entitled to annual leave, and the following will occur:
4 weeks of annual leave become due and are added into the employee's Current Leave Due balance.
The Holiday Earnings and Holiday Pay Due balances are set to zero.
This process will then repeat, with the employee's Holiday Pay Due balance accumulating until they cross their following employment anniversary or finish employment.
Finishing Employment
At any given point in time, employees are owed two separate amounts - Holiday Pay Due and Current Leave Due.
If the employee finishes their employment within the first 12 months, no leave will have become due yet, so they're paid out their Holiday Pay Due balance in their final pay. The value of any leave they have taken in advance will then be deducted from their final pay.
If the employee finishes employment after crossing their first or any subsequent anniversaries, they will be paid out the Holiday Pay Due which has accrued for the current entitlement year since the last anniversary, plus any Current Leave Due remaining from previous years. See MBIE's Website for additional details on processing Leave and Holidays in a Final Pay or our support article on Final Pay.
Holiday Pay Due is typically 8% of gross earnings and is shown in PayHero as a dollar amount. Current Leave Due is always stored in weeks, but can be viewed in either days or hours if the employee's work pattern or pay history includes enough detail to display a conversion.
Balances in PayHero
The fields on the employee's Leave tab are as follows: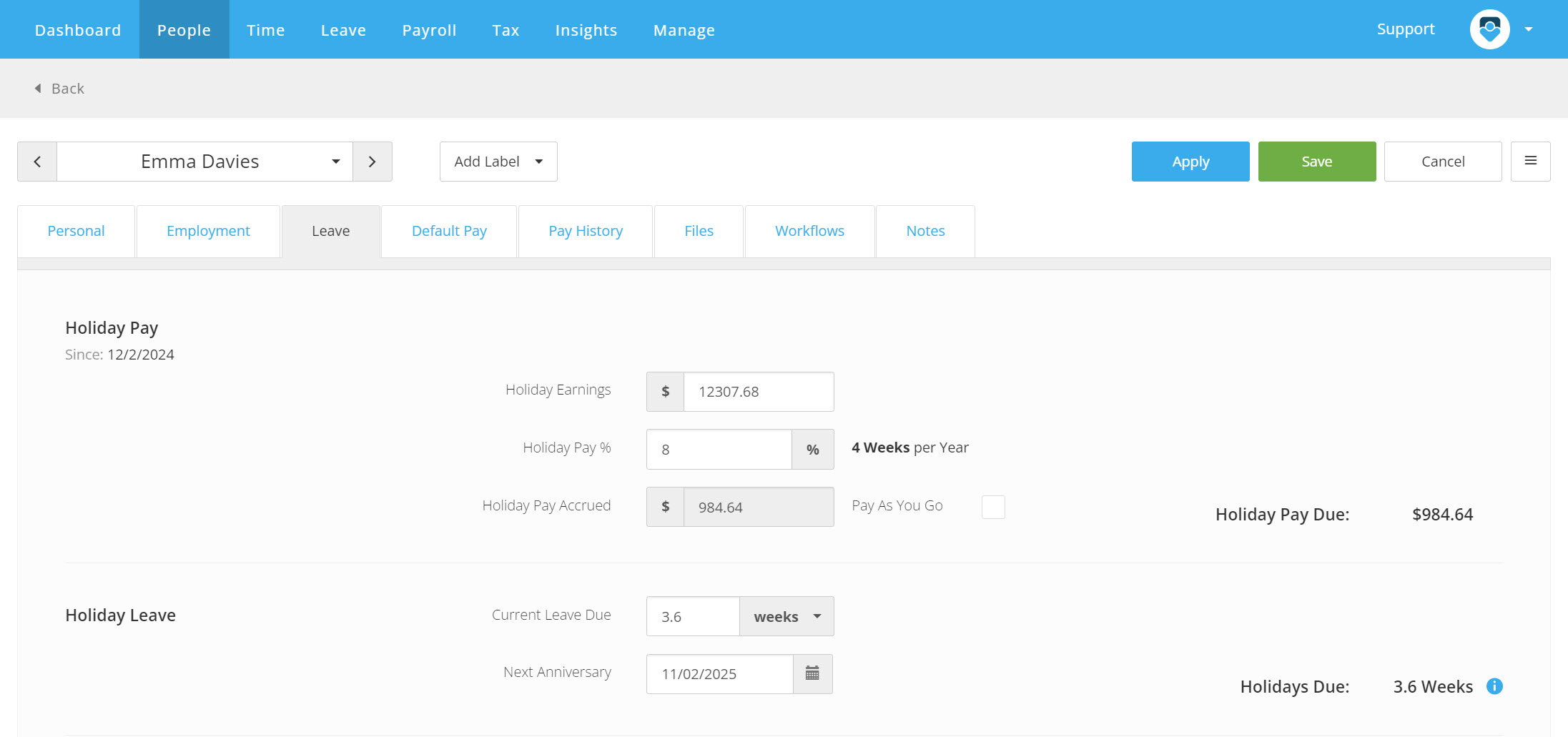 Holiday Earnings - The employee's gross earnings from their Holiday Pay 'Since' date, excluding any earnings that aren't eligible for Holiday Pay.
Holiday Pay Accrued - Typically 8% of the employee's earnings since their Employment Start Date or Holiday Pay 'Since' date.
Pay As You Go - This checkbox will cause an employee to be paid out their 8% Holiday Pay in each pay. It will also pay out any outstanding Holiday Pay Due in their next pay. Learn more about Holiday Pay As You Go here.
Holidays Paid Out - This will appear for employees on Holiday Pay As You Go, once the Pay As You Go checkbox is ticked and shows the amount of Holiday Pay currently paid out.
Holiday Pay Due - The Holiday Pay amount, less any Holidays Paid Out, that would be owed to the employee if their employment finishes.
Current Leave Due - Annual leave due less any annual leave taken since the last anniversary. This is the leave balance that will be paid out in a final pay, along with Holiday Pay Due.
Estimated Leave in Advance - Found by clicking the

button on Holidays Due, this balance is an estimate of how much leave in advance the employee could take for the current entitlement year.
Note - Annual Leave Taken is included in gross earnings balances, so when an employee is paid for annual leave taken their Holiday Pay balance will increase. It may seem as though you're double paying here, however, when an employee takes annual leave they are still employed with you and should continue to accrue annual leave.