If an employee has been on a Holiday Pay As You Go contract and is changing to permanent employment, there are a few settings to get right.
Most importantly, if the employee now has a regular Work Pattern, ensure this is set in their Employment Details so their leave can be calculated correctly based on their new employment basis.

Once their work pattern is set, the best approach to take will depend on what type of casual employee they were. See the Fixed Term Contract or Intermittent or Irregular sections below for more info on any additional steps that may be required.
Fixed Term Contract
If they were on a fixed term contract and change to permanent employment the law is as follows:
Section 28 (3)
If the fixed-term agreement of an employee to whom subsection (1)(a)(i) applies is followed by permanent employment with the same employer, the employee -
(a) becomes entitled to paid annual holidays at the end of 12 months' continuous employment (including the period of that fixed-term agreement) under section 16; but
(b) the amount of the holiday pay that the employee is entitled to be paid for the holidays is reduced by the amount that the employee has already received under subsection (1).
In PayHero this situation is handled automatically. Because the next anniversary date isn't changed it is necessary for the employee to pay back the Holiday Pay they have already received so that when they pass their anniversary and receive 4 weeks leave they aren't doubling up.
A separate balance is shown on the employee record under the Leave tab for Holidays Paid Out: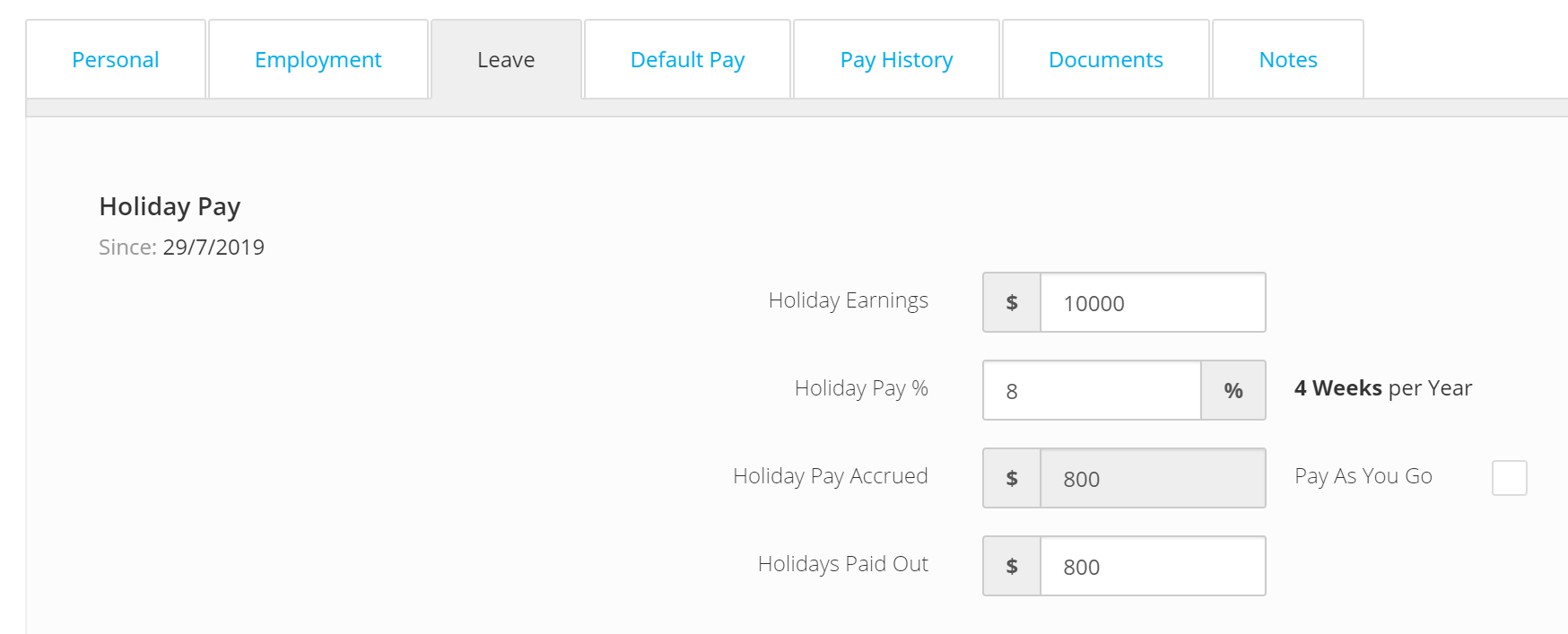 The paying back of the Holiday Pay received happens when the employee takes Annual Leave. The Annual Leave is paid out as normal but an additional deduction pay line is added to the pay called "Holiday Pay in Advance - Holidays Already Paid" -

After the pay is sent the balance of Holidays Paid Out on the employee record will be reduced by the amount deducted in the employee pay. Once the balance of Holidays Paid Out reaches $0, the employee will be paid normally for leave.
Intermittent or Irregular
If the employee hours were intermittent or irregular but are now changing to regular hours, the employee is effectively being employed under a new agreement. We recommend you finish and restart the employee. Use the Finish Employment button on the Employment tab:

Once you've entered the date of the change over, use the New Employment button to restart them:

Note that this will clear sick leave and alternative leave balances, so these may need to be re-entered. If the employee was eligible for sick leave while they were on intermittent hours, the sick leave anniversary may need to be reset to 6 months since their initial employment.