If you're in the process of setting up a new PayHero account, you may have opening leave balances to enter for your employees. To be as compliant as possible with MBIE guidelines, leave in PayHero is stored in terms of weeks, which may be different from how your previous payroll software tracked leave balances. As a result, some calculations may be required to correctly copy over your employees' leave entitlements. Further information on how to calculate leave in weeks can be found here: Calculating Annual Leave in Weeks
Opening leave balances are entered on the employee's Leave tab found in Manage > Employees > Leave.
Holiday Pay

Holiday Earnings - This will be the total gross earnings since the employee's last anniversary date, or since their start date, if they're still in their first year of employment. This should only include gross earnings that attract holiday pay - discretionary payments and expense reimbursements should be excluded, and a full list of inclusions/exclusions can be found in this article from MBIE.
Holiday Pay % - This is usually the standard minimum Holidays Act entitlement of 8%. For an employee entitled to more than the standard 4 weeks of leave per year, this rate should be increased by 2% for each additional week of leave they are entitled to. Learn more here: How do I increase my employee's Annual Leave entitlement?
Holiday Pay Accrued - This is the total holiday pay accrued since the last leave anniversary. This value will be calculated automatically based on the Holiday Earnings you have entered and the Holiday Pay %.
Pay As You Go - Select this option if your employee is on Holiday Pay As You Go. View our support article for more information on Holiday Pay As You Go.
Holidays Paid Out - If the employee is on Holiday Pay as You Go, this amount should be the same as accrued. If the employee was previously on Pay as You Go and transitioned to a contract, this value should be the amount that was paid out to the employee.
For more information about Holiday Pay, see our article here: Holiday Pay
Holiday Leave

Current Leave Due - The amount of leave this employee currently has due. This is all leave that has become due to them at prior anniversaries, less any leave they have taken. If they have taken more leave than is due to them then this balance will be negative.
By default this will display in weeks. Any balances entered in Hours or Days (if available) will be converted to Weeks automatically by PayHero.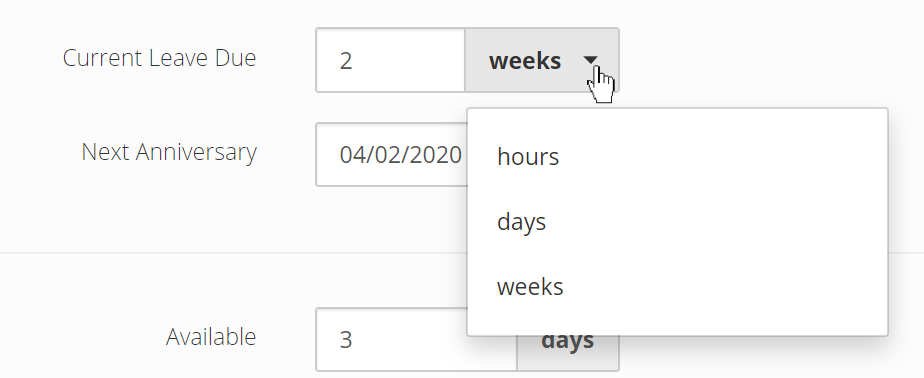 You can change the units by selecting the weeks drop-down list and choosing days or hours. This is only applicable if the employee has a Work Pattern set with enough details for PayHero to convert the Weeks balance into other units, or enough Pay History for PayHero to calculate what a week is for the employee based on their recent history.
If they don't have a Work Pattern and you don't wish to add Pay History then you'll need to enter their opening balance in weeks.
Next Anniversary - This date will be the employee's next upcoming leave anniversary. For new employees this will be 12 months after their selected start date.
For more information about Annual Leave, see our article here: Annual Leave
Sick Leave

Available - The amount of sick leave currently available to the employee - i.e. any sick leave that has become due, less sick leave that the employee has taken.
Annual Entitlement - The minimum entitlement for an employee is 10 days annually. If the employment agreement provides more than 10 days, the amount can be entered here.
Maximum Entitlement - Unused sick leave can be accrued up to at least 20 days under the Holidays Act. This amount can be higher if stated in the employment agreement, and the new amount can be entered here.
Next Sick Anniversary - This anniversary is set to 6 months after an employee's start date by default. If the employee has been employed for more than 6 months, the next sick leave anniversary displayed will be 12 months after the initial 6 month anniversary.
For more information about Sick Leave, see our article here: Sick Leave
Alternative Leave

Due - Enter in the number of alternative leave days the employee has.
For more information about Alternative Leave, see our article here: Alternative Leave